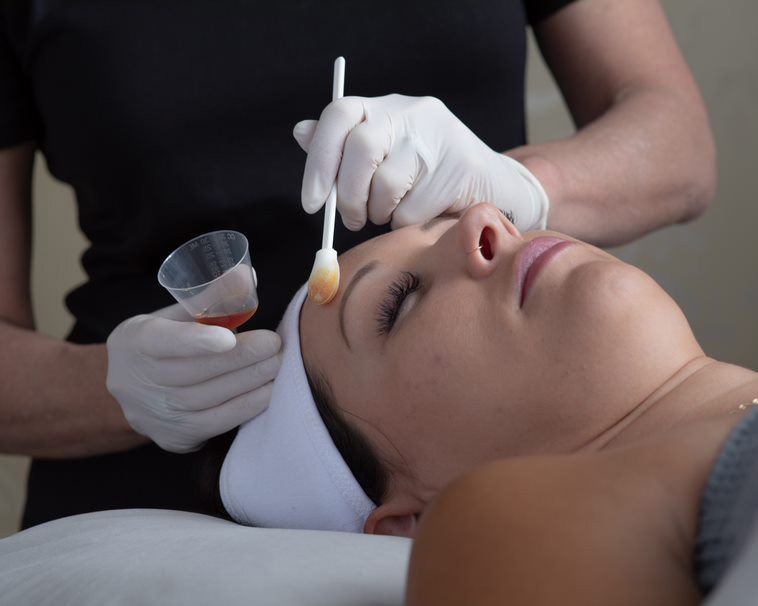 A chemical peel revitalizes the skin by removing the outer most layer exposing deeper layers which are smoother and fresher. These treatments stimulate new skin growth, reduce fine lines and brighten your complexion. Peels improve the appearance and condition of the skin on the face, neck, chest or hands. When used in conjunction with a recommended skincare regimen, chemical peels are effective in treating a number of common skin conditions.
The most common indications for chemical peels are:
Acne and congestion
Melasma (brown patches)
Hyperpigmentation (dark spots)
Uneven tone and texture
Fine lines and wrinkles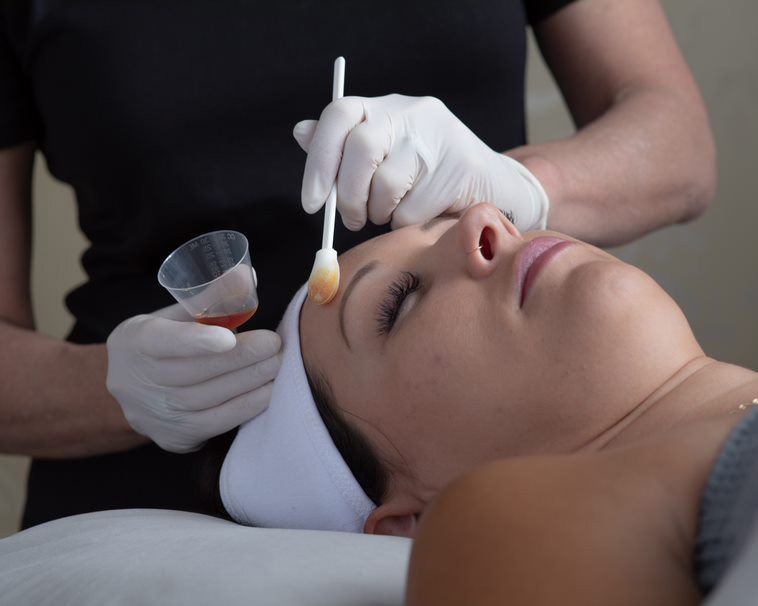 Frequently Asked Questions
Frequently
Asked Questions
This peel is the world's leading professional depigmentation treatment designed to eliminate dark spots and Melasma on your skin. Cosmelan treatment offers an advanced approach for hyperpigmentation concerns in all skin types and in all ethnic groups.
Cosmelan Peel is relatively quick and painless, and there is no pretreatment required. This first step involves the application of a thick, peanut butter-like cream mask. This mask should remain on the face for 6-10 hours. Following the initial treatment, the pigment will appear lighter in color, and you will begin to notice results fairly quickly which will continue to improve over the course of the treatment. You will return in 4 weeks for a second mask, this treatment will target any remaining stubborn hyperpigmentation.
Indications for Cosmelan Treatment:
Melasma is characterized by gray-brown patches that appear on the face, most often in the cheeks, forehead, nose, and chin.
Post Inflammatory Hyperpigmentation (PIH) which is caused by injury to the skin such as post acne flair up, post laser treatment or trauma to the skin.
Commonly referred to as the "lunch time peel", the Universal Peel is considered a superficial peel. This resurfacing peel reduces fine lines, wrinkles, and lightens brown spots. The Universal Peel is a painless peel with minimal peeling and downtime. This peel can also be used on the décolletage (chest) to diminish brown spots and crepiness caused by sun damage. Peeling typically begins 2 to 5 days after treatment. Within one week of treatment, you will experience a clearer, more even complexion. For best results a series of 3 treatments is recommended.
A Universal Peel is suitable for darker skinned clients (Fitzpatrick IV – VI) and clients with sensitive skin or Rosacea.
*For best results, for our darker skinned clients, we recommend starting Hydroquinone 30 days before your treatment. Consult with one of our skin care professionals as to the strength that is best for your skin type.
A highly effective, medium depth peel, the Jessner Peel is a resurfacing peel that reduces fine lines, wrinkles, and lightens brown pigmentation. This treatment is used to correct visible signs of photo-damage. With this treatment, you may experience a warm tingling or a slight sting during the application. Afterward, you can expect some tightness followed by moderate flaking and peeling. Within one week of treatment, you will notice a clearer complexion and a firmer tone to the skin.
A Jessner Peel is ideal for those with thick skin, skin discoloration, moderate wrinkles, as well as acneic or oily skin. This peel is also effective in the treatment of Melasma, Psoriasis and Eczema.
*For best results, we recommended starting Retin-A 14 days before your treatment. Consult with one of our skin care professionals as to the strength that will be best for your skin type.
Our nurse, Helene's, favorite peel; this medical-grade peel is recommended for heavily sun-damaged skin. It allows for deeper penetration of the concentrated ingredients into the skin. With the Intermediate Peel, you will see more substantial results than the Jessner peel. This peel exfoliates the irregular, dead skin cells, stimulates circulation, and promotes the growth of healthy, plump new cells. Peeling generally starts 2-3 days after the treatment and should take about 7-10 days to completely peel and then heal. Within days, your skin will be smoother and softer with a more even tone.
The Intermediate Peel is ideal for the "sun worshipers" of the 70's and 80's who are now ready to reverse the damage.
*For best results we recommend starting Retin-A 14 days prior to your treatment. Consult with one of our skin care professionals as to the strength that is best for your skin type.
A more aggressive peel, the Advanced Peel is not recommended as an initial peel. This treatment promotes healthy skin, improves the appearance of dull, uneven skin tone and texture. You may experience additional down time with this peel. The face and neck may peel for 10-12 days and other areas of the body could peel longer. Typically, this peel requires just one treatment. However, your skin care professional will determine the best treatment plan to address your individual skin condition and type.
The Advanced peel is highly effective on stubborn hyperpigmentation. This peel is recommended for skin that is oily, thick and resilient. It is NOT suitable for sensitive skin types or Rosacea.
Enhance Your Natural Beauty
Enhance Your
Natural Beauty
Get in touch with us today to get started!